Women in the United States Armed Forces: A Guide to the Issues

By Darlene M. Iskra
Synopsis
General Ann Dunwoody, the first woman to achieve the rank of four-star general, earned her promotion in 2008, 60 years after women were first admitted to the military on a permanent basis. Even today, policies and legislation keep women from pursuing certain types of jobs like ground combat positions, making it difficult for more women to attain the highest ranks.
This handbook provides the reader with an historical and contemporary overview of the service by women in all branches of the U.S. military, tracing the causes and effects of evolving policies, issues, structural barriers, and cultural challenges on the record and in the future of the accomplishments by women warriors.
The Nightingale of Mosul
By Susan Luz
Synopsis
The true story of a female soldier in Iraq who was awarded the Bronze Star—not for fighting, but for fighting to care.
She is today's Florence Nightingale. At age 56, Susan Luz was deployed to Iraq. By the time she returned home, she had helped save the lives of 30,000 wounded soldiers, contractors, Iraqi civilians, and detainees. But this was not the first time Luz responded to the call of duty: this is the inspirational story of a life dedicated to service and to the ideal of fighting for what truly matters.
As a young woman, Luz served in the Peace Corps in Brazil, where she experienced the brutality of poverty and violence. As a public health nurse, she has worked in jails, psychiatric wards, and a violent inner city high school. But nothing prepared her for what she would see in Iraq. Working under constant fire, Luz routinely witnessed the most horrific effects of the war. Her dedication to her job earned her the Bronze Star in honor of her selflessness and the life-saving work she carried out under unfathomably difficult circumstances.
Susan Luz is a true hero and her story will resonate in the hearts and minds of readers for generations to come.
Band of Sisters: American Women at War in Iraq
By Kirsten Holmstedt
Synopsis
In Iraq, the front line is everywhere...and everywhere in Iraq, women in the U.S. military fight. More than 155,000 of them have served in Iraq since 2003—four times the number of women sent to Desert Storm in 1991—and more than 430 have been wounded and over 70 killed, almost twice the number of U.S. military women killed in action in Korea, Vietnam, and Desert Storm combined. Band of Sisters presents twelve amazing and often heart-wrenching stories of American women in the frontlines including America's first female pilot to be shot down and survive, the U.S. military's first black female combat pilot, a 21-year-old turret gunner defending a convoy, two military policewomen in a firefight, a nurse struggling to save lives, including her own and more.
The Girls Come Marching Home: The Saga of Women Returning from the War in Iraq
By Kirsten Holmstedt
Synopsis
In her award-winning Band of Sisters: American Women at War in Iraq, Kirsten Holmstedt described how female soldiers, sailors, airmen, and Marines are fighting on the front lines in Iraq despite the military's ban on women in combat. Now Holmstedt tells the stories of America's fighting women as they come home from Iraq. Some return with grave physical wounds, but all struggle with the psychological toll of battle while readjusting to life at home. As Holmstedt so poignantly shows, these women may have left the war, but the war will never leave them.
Porcelain on Steel
By Donna McAleer
Synopsis
For more than 200 years, West Point has produced soldiers and leaders who have served our nation in and out of uniform. Women have been part of the famous Long Gray Line of graduates for the last 30 years. As Army officers, athletes, wives, and mothers, as leaders in business, in non-profits and even the clergy, they've met challenges and overcome obstacles to lead others with strength and courage. Porcelain on Steel is an insider's tour of one of America's most storied institutions and what it takes to succeed in the high-pressure, high-performance, high-testosterone lab that produces leaders for the Army and for the nation.
The Lonely Soldier: The Private War of Women Serving in Iraq
By Helen Benedict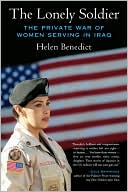 Synopsis
More women soldiers are fighting in Iraq than in any other American war in history, yet they face a dual challenge: they are participating in combat more than ever before, but because only one in ten soldiers is female, they are often painfully alone. This isolation, along with a military culture hostile to women, denies them the camaraderie soldiers depend on for survival and subjects them to sexual persecution by their comrades. As one soldier said, "I ended up waging my own war against an enemy dressed in the same uniform as mine."
In The Lonely Soldier, Benedict humanizes the complex issues of war, misogyny, class, race, homophobia, post-traumatic stress disorder, and more through the compelling stories of five women of diverse ethnicities and backgrounds who served in Iraq between 2003 and 2006. By following these women from their childhoods through enlistment, training, active duty in Iraq, and home again, Benedict vividly brings to life their struggles and challenges. Between their stories she weaves in accounts from numerous other Iraq War veterans, illuminating the wrenching and private war of female soldiers.
Benedict ends by showing how these women came to face the truth of war and by offering suggestions for how the military can improve—including distributing women more evenly and rejecting male recruits with records of domestic or sexual violence.
Women in the Line of Fire: What You Should Know about Women in the Military
By Erin Solaro
Synopsis
In 2004, Erin Solaro went to Iraq to study American servicewomen — what they were doing, how well they were doing it, how they were faring in combat. In 2005, she went to Afghanistan on the same mission. Having spent time embedded with combat troops and conducting stateside interviews with numerous analysts and veterans, Solaro is convinced that the time to drop all remaining restrictions on women's full equality under arms is now. The Army, the country, the women of America — and of the world — need it.
Women in the Line of Fire details why this will not be an easy task. Although 15 percent of the military is female, the Army and Marines still resist acknowledging what is, in fact, already happening — women are fighting, and fighting well. For the Religious Right and the cultural conservatives, women in combat is a hot-button issue in their campaign to "take back the culture." But for the young men and women on the lines, brought up in an America where equality between the sexes was never second guessed and where making up the rules as you go along comes with the territory, it's the new reality.
A Few Good Women: America's Military Women from World War I to the War in Iraq and Afghanistan
By Evelyn Monahan and Rosemary Neidel-Greenlee
Synopsis
The never-before-told story of the U.S. women's military corps: the women who fought for the right to defend their country by serving in our armed forces with full military rank and benefits—a fight that continues today for American military women who want to serve in combat support positions and in frontline combat units.
Using interviews, correspondence, and diaries, as well as archival material, Evelyn M. Monahan and Rosemary Neidel-Greenlee tell the remarkable story of America's "few good women" who today make up more than 15 percent of the U.S. armed forces and who serve alongside men in almost every capacity. Here are the stories of the battles these women fought to march beside their brothers; their tales of courage and fortitude; of the indignities they've endured; the injustices they've overcome; of the blood they've shed; the comrades they've lost; and the challenges they still face in the twenty-first century.
U.S. military women have lived, and continue to live, the history that has helped to make and keep America what it is. Now their stories have been brought together in a riveting firsthand narrative, as inspiring as it is illuminating.
It's Our Military, Too: Women and the U.S. Military
By Judith Hicks Stiehm, Temple University Press, Ronnie J. Steinberg
Synopsis
In the last twenty-five years the U.S. military has seen the abolition of women's separate corps, the appointment of women generals, and an unprecedented increase in the ratio of women to men. Also, women are now permitted to serve on combat planes and ships. Despite these developments, most civilians know very little about women in the military.
This collection includes unusual accounts by women on active duty, retired officers, women who have worked for the armed forces in a civilian capacity, and civilian academics. The book offers insights on a variety of pressing issues including minority women, lesbians, combat, the role of gender in weapons design, and the changing mission of the military.
Through personal accounts and commentaries, this book dispels many of the myths about women and the military and explores the reasons for the persistence of misconceptions in the face of increased female participation. This comprehensive effort will be of interest to anyone who wants to know the truth about women in the armed forces and will be a wake-up call to women who feel that the military is irrelevant to them.
Our Mothers' War: American Women at Home and at the Front during World War II
By Emily Yellin
Synopsis
Our Mothers' War is an eye-opening and moving portrait of women during World War II, a war that forever transformed the way women participate in American society. Never before has the vast range of women's experiences during this pivotal era been brought together in one book. Now, Our Mothers' War re-creates what American women from all walks of life were doing and thinking, on the home front and abroad. These heartwarming and sometimes heartbreaking accounts of the women we have known as mothers, aunts, and grandmothers reveal facets of their lives that have usually remained unmentioned and unappreciated.
Our Mothers' War gives center stage to one of WWII's most essential fighting forces: the women of America, whose extraordinary bravery, strength, and humanity shine through on every page.
Count on US: American Women in the Military
By Amy Nathan and Walter Cronkite
Synopsis
That's what Colonel Mary Hallaren said in 1942 when an Army recruiting officer asked why she thought she should sign up to serve in World War II. That same spunky spirit has prompted American women to take part in every major war in the nation's history. These are some of their stories, from a young Massachusetts woman who cut off her long hair and disguised herself as a man to fight in the American Revolution more than 200 years ago to female pilots flying combat missions in Iraq in 2003. For many years women's contributions in the military weren't mentioned much in history books. Until recently, women had trouble even being allowed to serve because of a long-held belief that the military should be for men only. But that didn't stop thousands of women from pitching in to nurse wounded soldiers in the Civil War. Nor did it discourage the thousands who signed up as Navy yeomen office workers in World War I.
As women proved themselves during wartime emergencies, more opportunities began to open up. During World War II, servicewomen did a much wider range of jobs, including being mechanics, technicians, code experts, and aviators. By the Persian Gulf War in the early 1990s, servicewomen were tackling even more challenges, from guarding bases to piloting planes that provided midair fueling to bombers. Today, servicewomen can pilot those bombers themselves as well as serve on combat ships. In fact, more than 90 percent of the military's jobs are open to them. As you'll learn from reading about women's experiences in the military, the road to acceptance hasn't always been smooth. There have been lots of bumps, twists, turns, and potholes along the way. Count on Us celebrates the courage, dedication, and determination of America's servicewomen. Their story is an important part of women's history and of the nation's history, too. Their "can do" attitude will inspire you to follow your dreams, whatever they may be.
Visions of War, Dreams of Peace
By Lynda Van Devanter and Joan Furie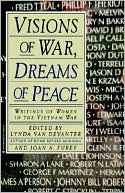 Synopsis
Lynda Van Devanter--author of the backlist classic Home Before Morning, which inspired the TV show "China Beach"--edited this powerful collection of poems reminiscent of Dear America: Letters Home from Vietnam. All author proceeds from the book will go to the Vietnam Women's Memorial Project. 6 photographs.
Side-By-Side: A Photographic History of American Women in War
By Vicki Lewis

Synopsis
From the legendary Molly Pitcher, who loaded cannons during the American Revolution, to Rhonda Cornum, an army doctor held prisoner of war during Operation Desert Storm, millions of American women have served beside men on the world's battlefields. Women have fired muskets and Scud missiles, and they've performed countless vital tasks in all branches of the armed forces. There are some 1.5 million women veterans alive today, and 333,000 women currently serve in the U.S. Armed Forces.
A powerful collection of poignant, rarely seen photographs and personal narratives, Side-By-Side pays long-awaited tribute to the strength and courage of women in military service-and, in doing so, offers a fresh perspective on American history. Thanks to the author, readers gain unprecedented access to the archives of The Women's Memorial at Arlington National Cemetery, along with numerous public and private repositories. The text draws on hundred of personal interviews and historical journal entries, allowing many women's stories to be told in their own words.
Vickie Lewis is an award-winning, Pulitzer-Prize-nominated documentary photographer whose work has appeared in such publications as People, The New York Times, National Geographic World, and Washington Post Magazine. She has won awards from, among others, the National Press Photographers Association, University of Missouri, and the Society of Newspaper Design.
Your Mother Wears Combat Boots: Humorous, Harrowing and Heartwarming Stories of Military Women
By Michele Mirabile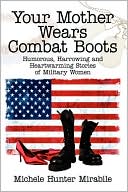 Synopsis
Your Mother Wears Combat Boots is a refreshing, nonpartisan collection of stories honoring the service and accomplishments of women who have served in all branches of the United States Armed Forces. From combat tales, to what happens when a woman's menstrual cycle coincides with a stint in the trenches, all of the experiences included in this anthology give the reader a glimpse of the unique circumstances faced by mothers, daughters, sisters, and wives in uniform.
Love My Rifle More than You: Young and Female in the U.S. Army
By Kayla Williams and Michael Staub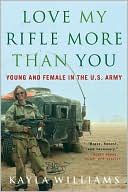 Synopsis
Williams, part of the female 15 percent of the US Army, served five years in the military, including a year's deployment in Iraq during and after the US occupation. Her gritty memoir tells what it's like to be a woman in a macho universe, treated variously as a soldier respected for her skills and as a sister, mother, *****, and slut. Eight inset pages bear b&w photos of a down-home Williams suited up in party finery as well as uniform.
The Ordinary Life of a Military Woman
By Dianna Wells Shire
Synopsis
This book details the life of a poor farm girl, Dayton Willis, when she left home for the first time and joined the United States Air Force. It describes in great detail her treatment as a young airman. The story outlines her struggles at each military base she is assigned, hopefully giving the reader a better understanding, and more respect for our military members. The story starts in divorce court and then the captivating tale begins on how she got there.
Women at War: Iraq, Afghanistan, and Other Conflicts
By James E. Wise
Synopsis
Today, women in all U.S. military services are involved in the war in Iraq and Afghanistan. They serve as pilots and crewmen of assault helicopters, bombers, fighters, and transport planes, and are frequently engaged in firefights with enemy insurgents while guarding convoys, traveling in hostile territory, or performing military police duties. Like their male counterparts, they carry out their missions with determination and great courage. The advent of the insurgency war, which has no rear or front lines, has made the debate regarding women in combat irrelevant. In such a war zone anyone can be killed or injured at any moment. The stories of those courageous women are told by the authors who use a format similar to the one employed with such success in the book Stars in Blue. The profiles of some thirty women and their photographs are included.
Co-Ed Combat: The New Evidence That Women Shouldn't Fight the Nation's Wars
By Kingsley Browne
Synopsis
A scholar makes a definitive, controversial argument against women in combat more than 155,000 female troops have been deployed to Iraq and Afghanistan since 2002. And more than seventy of those women have died. While that's a small fraction of all American casualties, those deaths exceed the number of military women who died in Korea, Vietnam, and the Gulf War combined. Clearly, women in combat isn't a theoretical issue anymore. Women now fly combat aircraft and serve on warships. Even the remaining all-male corners of the military are blurring the lines in Iraq. And for many advocates, this trend is considered progress—toward a better, "gender neutral" military. Co-ed Combat makes the opposite case, based on research in anthropology, biology, history, psychology, sociology, and law, as well as military memoirs. It asks hard questions that challenge the assumptions of feminists. For instance:* Has warfare really changed so much as to reverse the almost unanimous history of all-male armed forces?* Are men and women really equivalent in combat skills, even leaving aside physical strength?* Do female troops respond to traditional types of motivations?* Can the bonds of unit cohesion form in a co-ed military unit?* Can an all-volunteer military afford to reject women? This is a controversial book, likely to draw a passionate response from both conservatives and liberals.